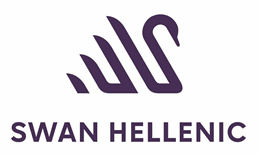 SWAN HELLENIC PRESS RELEASE 08th December 2021
Renascent Swan Hellenic's SH Minerva sets sail for Antarctica
The cultural expedition cruise pioneer's purpose-designed new ship is on her way to Ushuaia ready for a New Year maiden Antarctic cruise departing 29th December.
Nicosia, Cyprus: Today, Wednesday the 8th of December 2021
Swan Hellenic announced that its new ship SH Minerva had left Helsinki for Argentina and her first cultural expedition cruise of the Antarctic, a 10-day New Year celebration of discovery departing Ushuaia on the 29th of December 2021.
SH Minerva was delivered on the 3rd of December following her christening on the 23rd of November and 3 days of highly successful sea trials in which the next-generation polar expedition vessel performed beyond expectations in all respects, from manoeuvrability and stability to top speed and emissions. The elegant new purpose-designed ship sailed through the Kiel Canal on the 6th of December.
She is the first in a series of three stunning high ice class cultural expedition cruise vessels made for premium cruise experiences worldwide, with a strong bias for extreme latitude areas. SH Minerva features a 5-megawatt diesel-electric propulsion system with selective catalytic reduction and a PC5 ice-strengthened hull with extra-large stabilisers for exceptional passenger comfort. At 113 m, the 10,500-ton vessel has been specially designed to explore the most inspiring and inaccessible places on the planet.
The vessels have been designed to meet the latest environmental regulations. SH Minerva is completely self-sufficient for up to 40 days or 8,000 nautical miles. Preparations have been made to implement battery technology which would also make it possible to operate silently. The vessels are equipped with exhaust gas cleaning, advanced wastewater treatment systems and the waste storage facilities required for operating in sensitive polar areas.
Providing spacious 5-star accommodation for 152 guests in 76 spacious cabins and suites, the vast majority with large balconies, SH Minerva is operated by an onboard team of 120 to provide the highest levels of personal service.
Now in the expert hands of industry veterans Captain Tuomo Leskinen and Hotel Director Philipp Reutener, SH Minerva is set to take her first guests on a 10-day cultural expedition cruise of the Antarctic to celebrate the New Year. There, they will explore the inspiring sights and wildlife of the peninsula and milder Shetland Islands in the company of Expedition Leader Pablo Brandeman, polar expert Steve Blamires and renowned ornithologist Andy Bunten.
Internationally acclaimed chef Jörg Lehmann will be bringing the distinctive Swan Hellenic gastronomic vision to life aboard SH Minerva, presenting varied menus of freshly cooked delicacies that include original Italian and Asian fusion dishes, created in partnership with award-winning Consultant Chefs Andrea Ribaldone and Sang Keun Oh.
At delivery, Helsinki Shipyard Project Manager Jonas Packalén commented:
This is a proud day for us all. SH Minerva is even more beautiful and elegant than we dared hope! We wish her and her crew fair winds and following seas, with special thanks to everyone involved in the project for their unstinting dedication!
Swan Hellenic CEO Andrea Zito added:
I, too, would like to congratulate everyone at Helsinki for their superb work in creating this wonderful new ship. We are delighted with the quality of their work, underlined by the superb performance SH Minerva achieved in her sea trials. With Swan Hellenic now a unique presence on the waves again, we very much look forward to taking our guests to see what others don't, exploring the Antarctic in exceptional comfort and style.
Minerva will be followed by her sister ship SH Vega (NB517) and the slightly larger NB518, which are both already under construction at Helsinki Shipyard.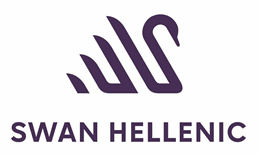 About Swan Hellenic
Swan Hellenic was relaunched in July 2020 to proudly continue the spirit of cultural expedition cruising the company pioneered in the 1950s. Building on its British roots, the new company has a global cultural cruising outlook dedicated to providing guests with the opportunity to 'see what others don't'.
SH Minerva and SH Vega, two new 5-star polar PC 5 ice-class expedition cruise ships arriving in November 2021 and April 2022, will each accommodate 152 guests in 76 spacious suites and staterooms, the majority with large balconies. A larger PC 6 ice-class vessel accommodating 192 guests in the same distinctive comfort and style in 96 staterooms and suites will be arriving year-end 2022. All three new ships feature 3 dining venues, the Swan Restaurant, Club Lounge and Pool bar & Grill, and are being built in full compliance with SOLAS Safe Return to Port requirements. Dedicated to guests with a passion for adventure and cultural exploration, the company's meticulously planned itineraries explore the wild landscapes, wildlife, peoples and unique cultures of the world's less travelled regions.
Swan Hellenic's ships feature elegant Scandi-design interiors, extensive outdoor spaces and dedicated expedition facilities. The crew includes an expedition team comprising expert guides, speakers and lecturers, and - numbering 120 and 140 respectively - almost equals the number of guests, reflecting the high levels of attentive personal service provided.
Headquartered in Cyprus with offices in London, Dusseldorf, Monaco, Fort Lauderdale (serving the North America market) and Hong Kong (serving mainland China, Taiwan, Vietnam and South-East Asia), as well as partnerships serving India, Japan and Australia-New Zealand, Scandinavia and Iceland, Swan Hellenic supports the travel trade with specialist local partners to provide customers with expert personal service worldwide.
About Swan Hellenic Minerva
| | | | |
| --- | --- | --- | --- |
| Tonnage | 10 600 | Cruising speed | 14 knots |
| Propulsion | 5 MW | Ice class | PC5 |
| Length | 113 m | Number of passenger cabins | 76 |
| Breadth | 20.2 m | Number of crew cabins | 73 |
| Draught | 5.7 m | Classification | Lloyd's Register |